SITAIZUI, China
The course architects at Golfplan will lead an international who's who of development consultants in the planning, design and construction of Beijing Secret Garden, a four-season US$1 billion resort project 230 km northwest of the Chinese capital that will ultimately include world-class ski facilities, a Whistler-style real estate/commercial community, and seven golf courses.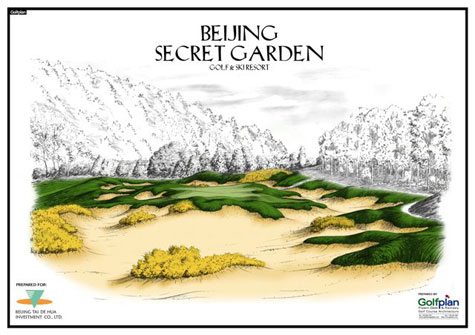 Founded in 1993, Malaysian developer VXL Group brings a wealth of experience to the Secret Garden, mainly in the form of real estate, resort and casinos projects it has spearheaded all over East and Southeast Asia. Indeed, Golfplan (www.golfplan.com) designed the publicly traded firm's first golf project, 20 years ago ˜ the Awana Genting Highlands G&CC, on the outskirts of Kuala Lumpur, is one of 150 courses the Golfplan has designed in 50 different countries around the world.
Golfplan's internationalist outlook is matched by its colleagues on the Beijing Secret Garden project. VXL Group has retained vertical architects Hornberger Worstel, the firm responsible for the new W Hotel San Francisco and The Ritz-Carlton Lake Tahoe, alongside Ecosign, the mountain resort planners who crafted Steamboat Resort in Breckenridge, Colorado, Hanazono Resort in Hokkaido, Japan, and Whistler Blackcomb in British Columbia, Canada. Sasaulito, California-based SWA is responsible for the massive project's sweeping landscape plan.
"There are big plans for this property, obviously, and we're eager to get the golf portion of those plans underway,‰ said Golfplan partner Kevin Ramsey, who anticipates breaking ground on the first course early in 2012. "This year, the concentration has been placed on resort infrastructure. Golf will follow quickly, but the scale of the project necessitates proper roads, reservoirs and electrical capabilities first.
"The Whistler model is instructive. VXL Group has retained the ski architects who worked at Whistler. The golf and ski capabilities, in addition to the real estate and commercial developments there are clearly a model. Let's remember Whistler played a big role in staging Vancouver's Winter Olympics in 2010. Beijing Secret Garden has been designed to attract Œworld class winter sports events'. It doesn't take a whole lot of imagination to see the ultimate goal here.‰
Massive infrastructure requisites are quickly falling into place. The Chongli region, home to Beijing Secret Garden, is 50 kilometers east of Zhangjiakou City, which was recently linked by the ZhangCheng Expressway. The Zhangjiakou Airport opened to commercial air travel this year, and completion of the Beijing-Urumqi High Speed Rail, in 2012, will further ease access ˜ Zhangjiakou will be the first stop on this line.
The focus of Beijing Secret Garden development is a valley that cuts through a dramatic landscape of mountains and broad grasslands. The Golfplan-designed course, the first of seven, will occupy either side of the main entry road, meaning it will be the first thing visitors see upon arrival.
The routing will "rock and roll through these big hills ˜ it will make a statement visually, as our work always does,‰ Ramsey said. "This a ski area, but this will not be a Korean mountain course. The land is not so severe and there are no trees out there to speak of, just a few pockets of pine and birch. We'll tie golf holes into those groves where we can, and an ambitious tree planting-scheme is planned.
"There will be at least three holes playing in and around elaborate water features, complete with waterfalls. But for me, the site here is the most spectacular feature. These hills are very broad. The air is so clear up here, such a distance away from Beijing. We have par-3s that play 60-70 feet downhill, and the views are very long. The setting is quite heroic, but also very peaceful.‰
Golfplan is among the most prolific and respected course design firms in world golf, and it has played an integral role in China's development as a golfing nation. The firm currently has 153 holes under construction on five different sites across the country.
The Beijing Secret Garden project, where Golfplan is slated to design all seven golf courses, was surely procured on the strength of its recent work in China ˜ Qiandaohu Country Club in Zhejiang Province, for example, was named the country's top new course by China Golf magazine in 2009, while the spectacular Weihai Point Golf Resort, opened in 2010, in Shandong Province, has garnered numerous international course design awards.
However, Golfplan was among the first western golf entities to commit itself to golf in China. It has been working here since 1984, designing courses like Grand Dynasty in Beijing and Orient Xiamen. Having introduced golf to so many new markets ˜to Indonesia in the 1970s, to China, Malaysia and Korea in the 1980s, to the former Eastern Bloc in Europe in the Œ90s, to Vietnam early in this century, and to India over the past three years ˜ Golfplan partners understand how long market maturation truly takes.
"Beijing Secret Garden is an nuanced example of how far the Chinese market has come in the last 25 years,‰ said Golfplan partner David Dale, who will collaborate with Ramsey in Sitaizui. "Fact is, the first golf courses built here in China were not built well ˜ golf was so new, it was very difficult to find or import construction expertise. It was equally difficult to match maintenance expertise with newly finished courses. Very few architects are happy with the way those early Chinese courses have fared over time, in terms of construction and maintenance. It's a sign of how immature the Chinese market was at that time.
"We're in a different place now, and it's exhilarating to see the investment Golfplan made in this market, in so many people here, paying off. What we're doing in India today ˜ getting results from training our own construction and maintenance people, on the ground, as we design and build the golf course ˜ is exactly what we did in China during the late 1980s and early Œ90s. That investment of time and expertise in Chinese course-building professionals is paying off today, not just at Golfplan projects but at course development projects across the country.