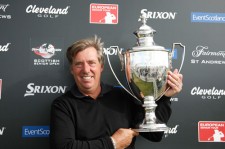 LANE RETAINS THE TITLE TO CONCLUDE A DRAMATIC WEEK AT THE CLEVELAND® GOLF/SRIXON® SCOTTISH SENIORS OPEN
Cleveland Golf and Srixon have once again proved themselves as major players in the golf industry by successfully sponsoring one of the biggest tournaments on the senior's circuit, The Cleveland Golf/Srixon Scottish Seniors Open for the third successive year.
The event, which took place at The Fairmont St. Andrews, saw some of the biggest names in golf compete for the Seniors title over the tough Torrance Course. In a strong title defence, Barry Lane holed from distance to post and eagle on the last hole to secure a 2nd victory in typical windswept links conditions. The victory was snatched from NBC television commentator and six time PGA Tour winner Gary Koch who was playing on an invite from Cleveland® Golf and Srixon®.
The Scottish Seniors Open is part of Cleveland Golf/Srixon's ongoing commitment to support seniors' golf. 2011 was the third year they have sponsored the event and it is also the third year they have been the official club and ball of the European Seniors Tour, providing the professionals with a first-class club fitting service at key events throughout the season.
The tournament also represented a key opportunity for Cleveland Golf and Srixon to entertain their retailers and consumers with a schedule of Pro-Am events. Over 150 competitors, who included green grass professionals and their top customers as well as representatives from the major buying groups and retailers, were treated to five-star accommodation at The Fairmont, golf on the Torrance Course in tournament conditions, plus dinner and prizes from partner sponsors such as TAG HEUER  throughout the week.
Darren Bragg (North London Golf Academy) and Nick Avery came through as winners of the first of the two scheduled Pro Ams with Ben Clayton from Hindhead Golf Club winning the individual pro competition and taking a cheque for £2,000 and a TAG Heuer watch.
A brief mention must go to local caddy Iain Watson from St. Andrews who helped not only Barry Lane to secure his defence but he also helped Ben Clayton to secure victory in the 2 day event earlier in the week.
"We were treated like VIPs, from the five-star accommodation, to the fantastic food and drink." said Clayton. "And that's not to mention getting to play golf on The Torrance Course set out in tournament conditions, which was a real privilege. I cannot thank Cleveland Golf, Srixon and all the sponsors enough for the invite to this first class event."
"The Cleveland Golf/Srixon Scottish Seniors Open was a huge success once again," said Cleveland Golf/Srixon European Marketing Manager Ben Davis. "It provides us with the unique opportunity to allow our top retailers and customers to experience tournament golf in a fun environment, while the main event is one of the flagship events of the European Senior Tour circuit and one we are proud to sponsor. Our thanks go to our sponsors The Fairmont, Lamkin Grips, Advance Group and TAG HEUER as well as Event Scotland for all their help organising the tournament. We look forward to returning to the Home of Golf next year."
For more information about the Cleveland Golf/Srixon Scottish Seniors Open or for information about the 2011 Cleveland Golf or Srixon products visit www.clevelandgolf.com or www.srixon.co.uk