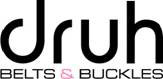 August 2011: Druh Belts & Buckles has been selected as the Official Belt Supplier to the European and U.S. Teams for The 2011 Solheim Cup which takes place from September 23-25 this year at Killeen Castle in Ireland.
Whilst Druh Belts & Buckles are already worn by some of the world's top golfers both on and off the course, the brand is delighted to have the honour of supplying both teams for The Solheim Cup with its unique belts as the bi-annual competition is the most prestigious team event in women's golf.
"As captain of the European Team, I want to ensure that my team members are 100 percent geared up for The Solheim Cup and part of this is feeling and looking good," said Alison Nicholas, who also captained the European Team in 2009, was vice-captain in 2003 and was a member of the European Team six times between 1990 and 2000. "I am confident that Druh will design us some belts that will do just that and help to inspire the team to our first victory since 2003."
"A great deal of thought and attention is given to the design of the team outfits for The Solheim Cup as it's important that each and every member of the team feels comfortable and likes what they are wearing," commented Rosie Jones, the U.S. Team Captain for 2011, who is co-designing the USA belts with Druh. "A lot of the girls on tour already wear Druh Belts so I am sure they will be delighted that part of the team uniform is being supplied by Druh as they are bound to be colourful, well-made and functional."
The stylish belt manufacturer is already hugely popular with the professionals on both the Ladies European Tour (LET) and the LPGA. Indeed its range of diamante flower buckle belts designed earlier this year exclusively for the ladies became an instant hit on both Tours.
Swede Sophie Gustafson and South Korean Jimin Kang both won in 2010 wearing Druh whilst the flamboyant Christina Kim, Swede Carin Koch and Malaysia's Jean Chua are all fans of Druh Belts & Buckles.
Recognised as the 'Choice of Champions', Druh Belts regularly make it on to the winner's podium making them an obvious choice for The Solheim Cup teams which are comprised of the top female pros on their respective tours.
Druh Belts & Buckles are also the preferred belt on the men's tours with former Ryder Cup star Paul McGinley, 2010 Qatar Masters and Dubai World Championship winner Robert Karlsson, Denmark's Thomas Bjorn and the 2009 Asian Tour Order of Merit winner, Thongchai Jaidee of Thailand, all wearing Druh.
Druh Belts are handmade in sumptuous classic and chic casual styles, using ten water snakeskins, ranging from turquoise to pink, and 15 leathers in different embossed styles, from crocodile to ostrich effect. Druh's interchangeable buckles in brushed nickel, polished silver or gold mean their belts can be customised to look smart on or off the course.
Available through the internet at www.druhbeltsandbuckles.com allows golfers to design their own unique belt by choosing their own belt and buckle combination. Every Druh Belt comes with a complimentary standard Druh buckle which can be easily interchanged with the wearer's buckle of choice.
Druh Belts retail at circa US$200/£125 for snakeskin and $125/£79 for leather and guarantees that the snakes used in production are not a protected species.
About The Solheim Cup
The Solheim Cup is named in honor of Karsten Solheim, and his family, the makers of PING golf equipment.  The Solheim Cup is the most prestigious international team event in women's professional golf. It is a biennial, trans-Atlantic team match-play competition featuring the best U.S.-born players from the LPGA and the best European-born players from the LET.  The U.S. Team leads the competition, 8-3, and has never lost on home soil.   The 2011 Solheim Cup will be played at Killeen Castle in County Meath, Ireland, Sept. 19-25.  In addition to founding sponsor PING, Global Partners of The Solheim Cup include Golf Ireland and Rolex.  For more information, log on to www.SolheimCup.com.