For the third year in a row, DIRECTV, with its programming partner ESPN, will roll out its interactive platform to offer viewers multi-channel coverage of the Open Championship, held this year at Royal St. George's Golf Club, in Sandwich, Kent. Like the bottomless bunkers on the course, the DIRECTV service is designed to be totally immersive experience for golf fans, who will see three extra channels including coverage of featured holes, like the famous No. 14 par 5 hole, bisected by the "Suez Canal," as well as the popular "International View" channel, that offers a unique look at the tournament through the eyes of British announcers and a focus on the European players in the field.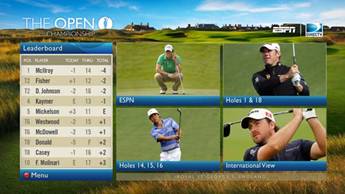 The bonus channels, along with live CNN network coverage, will be presented in HD as well as SD, and will also be available in a Mix Channel – four channels in one – each of which viewers may tune to full-screen.  Viewers of the Mix and Feature Channels, as well as the main network, will also have access to an interactive Menu of features designed to enhance the experience and guide viewers through their options. The application is available on all channels, including the Mix, Network and extra channels.
The interactive app will include:
·         Top Five Leaders: Leaderboard that also provides in-depth scorecard on each player, including hole-by-hole stats
·         Daily Quiz: a five-question trivia game on the past and present of the event and/or course
·         Tune To menu that allows the viewer to tune directly to the Mix, Network or three features channels.
·         The innovative DIRECTV Scoreguide will also be available on the service, enabling viewers to check out scores of other live sporting events.
For more information on the Open Experience visit www.directv.com/openchampionship