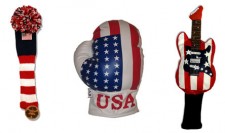 AB Golf Designs Expands Patriotic Head Cover Collection with USA-Themed Featherweight Boxing Glove and Star Spangled Guitar
(SCOTTSDALE, AZ) – AB Golf Designs – the market leader for attention-grabbing specialty head covers and accessories – announces two additions to its rapidly expanding line of Patriotic models, including a USA Featherweight Boxing Glove designed expressly for hybrids and fairway woods and a star spangled guitar inspired by music's greatest showman.
The USA Featherweight ($19.95) features the miniature form of a classic boxing glove, while the guitar ($25) head cover showcases elements from the American Flag. Both are available at www.abgolfdesigns.com and can easily be paired with the company's other patriotic-themed head covers, including the eco-friendly Throwback collection.
"There's been real demand for our Patriotic collection from consumers, retailers and American Tour stars," says co-owner D.J. Langer. "Especially as Independence Day approaches, we all take tremendous pride in being from such an amazing country."
Well established as the No. 1 provider of custom solutions for leading corporations nationwide, AB makes head covers that are used in competition by scores of top professionals, including Steve Pate, Christina Kim, Yani Tseng, Maria Hjorth and Paige McKenzie. Additional Patriotic Boxing Glove models are available for Australia, Canada, Ireland, Italy, Japan and the U.K.
"Our specialty head covers allow golfers to showcase their own unique personalities on the course," says co-owner Chip Burley. "Many of our products have come directly from customer suggestions and we're able to bring those concepts to life for orders of all sizes."
Recent custom designs include a rock hopper penguin for Allianz Insurance, a gecko for Geico Insurance, a bottoms-up peacock for NBC, a "blizzard" for Dairy Queen and a French fry box for McDonalds. The company has also produced a "Sparky" mascot for Arizona State University and Sooner mascot for the University of Oklahoma.
AB Golf Designs products can also be found at better golf retailers throughout North America, online at amazon.com and through distributor agreements in the U.K., EU and Asia-Pacific regions.
For more information, please visit www.abgolfdesigns.com or call 888.439.8379.
About AB Golf Designs
The market leader for attention-grabbing specialty head covers and accessories, AB Golf Designs offers a wide selection of premium-quality products at affordable prices, including high-quality collections in the novelty, animal, bling, charity and throwback categories.
Excelling in attractive pricing for the corporate, tournament and collegiate markets, the company provides low minimums, prompt turn-around and superb customer service for custom orders.
Originally founded in 2004 as Butthead Covers and focused exclusively on the namesake product line, the company changed ownership in 2009, expanded its collections and chose the AB moniker.