Asia-Pacific' top-ranked resort courses serve up 9 nights and 6 rounds in NZ, at US$10,000 per golfer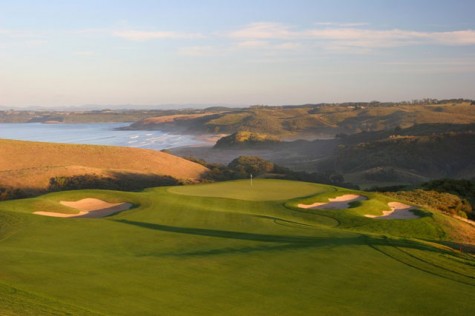 BAY OF ISLANDS, New Zealand – Kauri Cliffs Golf Club and Cape Kidnappers GC, arguably the two top-ranked golf courses in the entire Asia-Pacific region, have issued their first-ever golf package, arguably the most scenic, luxurious and pricey golf package currently on offer in Asia.
The Ultimate New Zealand Golf Package includes nine nights across three lodges, four courses, and the country's two largest islands. Per-person pricing ranges from $8,197 NZD in the low season (May through August) to $12,742 NZD in the high season, which runs November through March. [The NZ dollar equates to approximately .80 of the U.S. dollar.]
"When informed golf enthusiasts visit New Zealand, they inevitably play both Kauri Cliffs and Cape Kidnappers anyway, so while our first golf package has been a while in coming, we think it is worth the wait and will be well received," said Ryan Brandeburg, director of golf at both properties. "It's expensive, but if you price out all the golf, lodge nights and inclusions separately, the savings are well in excess of $1,000 NZD per person."
"The Package was also enabled by the opening of our new sister property, Matakauri Lodge, in the South Island tourist haven of Queenstown. Our family of properties now offers lodging of the same high standard from one end of the country to the other, under one corporate roof."
This family of celebrated golf and resort properties is owned and operated by American hedge fund legend Julian Robertson, who first visited New Zealand in 1979, and has since adopted it as a second home.
In 2000, Robertson opened his first property, Kauri Cliffs GC (www.kauricliffs.com), which looks out upon the ultra-scenic, North Island archipelago known as the Bay of Islands. This David Harman design today ranks among the World's Top 100 courses, according to both Golf Digest and GOLF Magazine. Kauri Cliffs would soon be joined on its sprawling 2630-hectare parcel by The Lodge at Kauri Cliffs, whose veranda-wrapped plantation house and adjoining guest cottages were named 3rd Best Hotel in the world by Condé Nast Traveler, as part of the magazine's 2010 Readers' Choice Awards.
In 2004, course architect Tom Doak unveiled Cape Kidnappers (www.capekidnappers.com), which has come to be ranked even higher: #36 on GOLF's World Top 100,  #10 on Golf Digest's list of courses outside the U.S. Cape Kidnappers is an actual landform unto itself, a triangular headland whose white cliffs jut 8 kilometers out into the Pacific from the North Island community of Napier. The Farm at Cape Kidnappers opened in 2006; it was named to Travel+Leisure's "World's Top 50 Hotels" in 2010.
In August 2010, the Robertson family oversaw grand opening of The Matakauri in the ski and adventure sports Mecca of Queenstown, in New Zealand's Southern Alps. The Matakauri would subsequently make Condé Nast Traveller's "2011 Hot List", while simultaneously making a comprehensive N.Z. golf tour feasible.
"Our company does not own or operate a golf property in Queenstown, but The Matakauri is here and Queenstown is a very popular stop on most N.Z. itineraries," Brandeburg explained. 'Accordingly, we have partnered with two superb courses in Queenstown, The Hills GC and Jack's Point, to complete The Package.
"On the golf side, The Package includes two rounds at Kauri Cliffs, two at Cape Kidnappers, and one each at The Hills GC and Jack's Point. Also included are club rental equipment, electric cart and ground transfers to the golf courses in Queenstown."
The Ultimate New Zealand Golf Package includes most everything else, too. That means three nights at The Lodge at Kauri Cliffs, three nights at The Farm at Cape Kidnappers, and three nights at Matakauri Lodge. Accommodation at each of the lodges includes daily pre-dinner drinks and hors d'oeuvres, gourmet dinner, full breakfast, complimentary mini-bar (excluding liquor and wines), WiFi, parking, and use of lodge facilities. The Package also includes a complimentary lunch for each night's stay. Lunch can be taken as three courses in the lodge dining rooms or packed as a picnic (on course or off).
Per-person pricing breaks down as follows, based on double occupancy and excluding international and domestic airfare:
1 May 2011 through 31 August 2011: $8,197 NZD
1 September 2011 through 30 September 2011: $10,852 NZD
1 October 2011 through 31 October 2011: $13,822 NZD
1 November 2011 through 31 March 2012: $12,742 NZD
Package pricing represents savings of up to NZ$1080 per person. The above pricing excludes 15% Government Goods & Services Tax (GST). October 2011 pricing reflects the demand created by New Zealand's hosting of the 2011 Rugby World Cup, scheduled for sites across the country, Sept. 9 through Oct. 23.
While airfare is not included in The Package, convenient, affordable domestic air travel is a Kiwi calling card. There are 4-6 short flights every day from Auckland to Kerikeri (the airport serving Kauri Cliffs) and Napier, serving Cape Kidnappers. Queenstown is even more accessible, from Auckland, Wellington and Christchurch.
Easy access to Cape Kidnappers and Kauri Cliffs is also enabled by deployment of Robertson's EC130 helicopter, which can shuttle golfers from Auckland to either North Island venue in 55 minutes.
"Kauri keeps this helicopter on-site, but Cape Kidnappers has an inventory of available helis in Hawke's Bay and in Auckland," Brandeburg said, noting one-way pricing from Auckland to Kauri Cliffs starts at $4295 NZD and tops out at $6125 NZD. "We are considering basing Kauri's helicopter in Auckland during the upcoming Rugby World Cup, to capitalize on the amount of casual golfers who make helicopter requests to and from Auckland. We expect to serve Package clients in same manner."