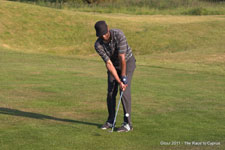 Patrice Chateauneuf won his first Gtour event in his second start in the latest event at De Vere Herons Reach, Blackpool.
The wind swept across the course from the North-West coast making shot selection important on a tight and demanding course where position off the tee was paramount for good scoring.
After a 14th place finish in his first start at De Vere Wychwood Park, Chateauneuf shot 38 points to win by two from Richard Fuller.  Fuller recorded his second runner-up position in two events after falling just short at De Vere Slaley Hall last time out.
"It feels great to win especially in only my second start," said Chateauneuf, "I've been working hard on all aspects of my game through the winter and early spring and it's great to see the time spent on practice greens and at the driving range starting to pay off.
"I really enjoyed the day and I'm really impressed by the Gtour. It is well organised, the team make us all feel welcome and we get to play on great courses. The relaxed atmosphere is probably the best attribute of the tour; golf can be a little serious sometimes and even in the heat of the battle the Gtour team and the players seems to have good fun with it."
With the tour over half way through the season, order of merit points are becoming increasing valuable in the all important Race to Cyprus.
Steve Watson maintained his position on top of the Order of Merit with an 11th place finish but it was Fuller who leaped into second spot with another top-three finish.
The tour moves to Yorkshire next and onto the stunning Moor Allerton Golf Course on Saturday July 2. The 27-hole championship course designed by Robert Trent-Jones is one of the toughest on the Gtour circuit and provides a great test of golf.
Results from Herons Reach:
1st. Patrice Chateauneuf 38pnts, 2nd. Richard Fuller 36pnts, 3rd. Bish Niewola 35pnts, 4th. Richard Blain 33pnts, 5th. Daniel Alvarez 33pnts, 6th. Adrian Wallace 33pnts 7th. Jed McCabe 33pnts, 8th. Craig Stubbs 33pnts, 9th. Philip Edmondson 33pnts, 10th. Alan Redmond 33pnts
For further information visit www.gtour.co.uk