Pete Dye Design Lauded for Playability, Conditions
(HILTON HEAD, S.C.) – Heron Point, the acclaimed Pete Dye-designed course at The Sea Pines Resort, has been named one of America's "Top 50 Courses for Women" by Golf Digest.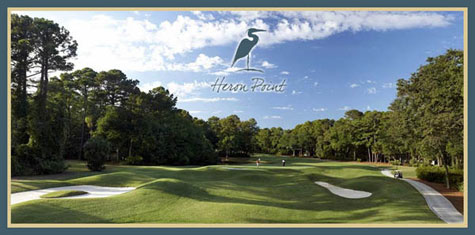 Featured in the magazine's June issue, the accolade is a direct result of Heron Point's playability, multiple tees rated for women, welcoming atmosphere and golf shop featuring a wide selection of name-brand women's equipment and apparel.
"Anyone familiar with Pete Dye's amazing body of work knows his wife Alice is intimately involved in the design process," says Cary Corbitt, Director of Sports Division at Sea Pines Resort.  "Forced carries, tee placements, approach angles and difficulty are all carefully evaluated to ensure golfers have fun and fair playing experiences."
A panel of more than 100 female raters provided the feedback used to create the Golf Digest "Top 50 Courses for Women" rankings.  Each course on the list has at least one set of tees shorter than 5,300 yards, two tees with course and slope ratings for women, and few or no forced carries.  Course conditions and amenities were also taken into account.
In 2007, Dye completed a $9 million overhaul of the Sea Marsh Course resulting in a modern classic, Heron Point. Only the original corridors remain, as Dye and his shapers created an entirely new playing surface from limestone, sand and mulch that contrasts elegantly against native turf and ornamental grasses.
The 7,103-yard tapestry of short and long holes is woven amid newly-created lagoons and centuries-old Live Oaks. All the Dye signature elements are present: sprawling waste bunkers, railroad ties, fairway mounding and risk/reward greens which repel poorly-executed approach shots. For more details about Heron Point, click on http://www.seapines.com/golf/heron-point-by-pete-dye.asp.
For more information about Sea Pines Resort and its wide-variety of golf packages: www.seapines.com, 866.561.8802.