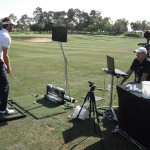 Written by:
Tony Korologos |
Date:
Friday, November 20th, 2015
Categories:
News
---
Multiple Options Offer Excellent Savings, Help All Players Improve Over Winter Months
(Centennial, Colo.) – GolfTEC – the world leader in golf lessons and largest employer of PGA Professionals – announces special holiday packages for golfers and gift givers, allowing players to experience the company's famed Swing Evaluations, Lesson Packs and practice sessions at a great value.
These renowned services are proven to help players of all skill levels improve and have more fun on the course. From November 16th through December 31st, the company is offering the following special bundles, more information is available at http://www.golftec.com/holiday:
• Swing Evaluation, one 30-minute lesson and one 30-minute practice session for $195
• Swing Evaluation, three 30-minute lessons and three 30-minute practice sessions for $295
• 10% off all regular Lesson Packs and Game Plans
Swing Evaluations include video analysis, motion measurement, a fact-based diagnosis and a lesson plan to follow. During these 60-minute sessions GolfTEC's Certified Personal Coaches use the company's patented g-SWING technology to quantify each student's swing and compare it to Tour averages. This data is used to build a personalized Game Plan that will address the changes needed to help golfers of all skill levels achieve longer, straighter shots and lower scores.
Highly efficient and boasting a 96 percent success rate, GolfTEC lessons are taught one-on-one by Certified Personal Coaches in private, mostly indoor bays that utilize proprietary teaching technology. Developing a comprehensive improvement plan for each student is the foundation of GolfTEC's philosophy.
"Winter is the perfect time to utilize our climate controlled indoor hitting bays and these gift packages ensure high-quality off-season training," says Joe Assell, Co-Founder and CEO of GolfTEC. "Our goal has always been to grow the game by creating better players who are excited to play more often and share golf with new people at every chance."
Since 1995, GolfTEC has taught nearly 6 million lessons at almost 200 locations worldwide. Committed to strengthening the industry and hiring only the best staff, GolfTEC employs nearly 600 coaches, most of whom have taught thousands of lessons. Each goes through a rigorous multi-week certification at GolfTEC University, including continued advanced training to master the analysis of golf swing mechanics, the technology of the GolfTEC system and the most productive teaching techniques.
Among the technologies currently employed:
• g-SWING teaching technology – This patented software program displays real-time video with motion measurement, while capturing body positions throughout the swing. Coaches use the information to diagnose, communicate and measure the changes that will lead to improvement.
• TECfit – Using Foresight® launch monitors to capture critical performance data – ball flight, ball speed, clubhead speed, launch angle, sidespin and backspin – coaches cross-reference this information with the proprietary SwingLabs® database to help select ideal clubs for each student's swing. They can then accurately illustrate changes in ball performance that result from club adjustments.
To learn more about the GolfTEC, please visit http://www.golftec.com/holiday or call 877-446-5383.
About GolfTEC
The world leader in golf lessons has a 96 percent success rate among its students. The more than 600 GolfTEC Certified Personal Coaches at nearly 200 centers worldwide, including nearly 80 within Golfsmith stores, have given nearly 6 million lessons since 1995. All lessons are based on the company's "Five Factors:" Fact-Based Diagnosis, Sequential Lessons, Video-Based Practice, Advanced Retention Tools, and TECfit club fitting. GolfTEC Improvement Centers can be found in almost all major U.S. cities, Canada, Japan and Korea.
More information: www.golftec.com, 877-446-5383.